Did Royal Gate Dodge Close?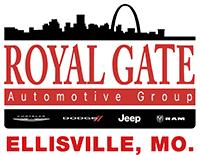 No, Royal Gate did not close, it changed ownership to Taylor Cars in late 2019. Since the change, it has been rebranded as David Taylor Ellisville. Although the dealership is now under new ownership, David Taylor Ellisville kept plenty of the familiar faces that you loved. To enhance your car buying experience even more, we added a handful of new team members to each department. David Taylor Ellisville is proudly serving the local community with hard-working members of the same local community. You deserve to drive a new Chrysler, Dodge, Jeep, or Ram vehicle, that is why we stock hundreds of options and plenty of used cars.
The same five-star service department operated as Royal is still repairing cars, performing maintenance, and getting our customers back on the road for David Taylor Ellisville.
If you are a previous customer of Royal Gate, we would love to have you visit the David Taylor Ellisville dealership! The new and improved Chrysler, Dodge, Jeep, and Ram dealership serving the West County St Louis area.
A couple of throwbacks to Royal Gate.
Late 90's – Royal Gate Dodge Inc Logo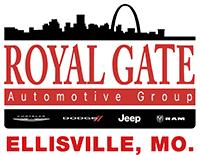 Modern late 2000's Royal Gate Dodge Logo